Off-road tour – description
Off-road tour – description 2022
Day 1:
Arrival at Heraklion airport (HER)
– I will meet the participants at the airport. Transfer approx. 1 hour (70 kms to Matala)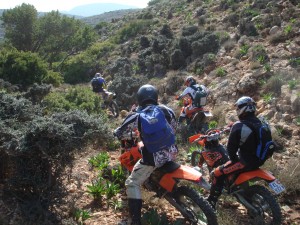 Day 2:
Matala – Kefali (80% gravel roads)
– Taking over the motorcycles, easy off-road training.
– We then drive south and discover the area near Kefali-Bathi.
– Visit of monastery if requested.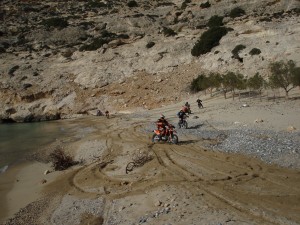 Day 3:
Matala – Kali Limenes – Lentas (80% gravel roads)
– Marvellous tour along the coastline in southeast Crete. Most impressive scenic roads along the coast, stop for swimming in a secluded bay.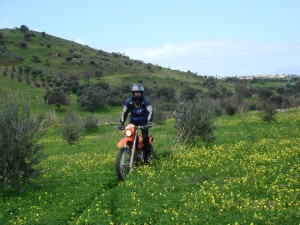 Day 4:
Matala – Kamares – Zaros (70% gravel roads)
– Mountain stage to the interior of the island, the Ida massif.
– This tour leads us through scenic Cretan mountain villages and gives us the opportunity to rest in plenty of kafenions (tavernas) and enjoy a local mountain tea.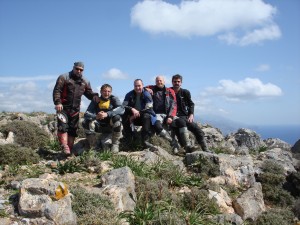 Day 5:
Matala – Agios Pavlos – Akumia (70% gravel roads)
– Today, we will head west along the southern coastline of Crete.
– On secluded gravel roads, we will pass by some fishing villages and Agia-Galini, a beautiful village built in terraces.
– After a short trip to a gorgeous bay we can enjoy Cretan delicacies at the taverna "Mama Eva's".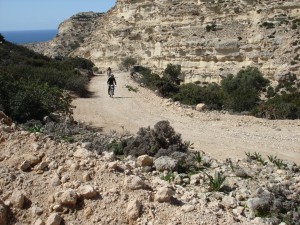 Day 6:
Matala – Tripiti (70% gravel roads)
– In the plain of Messara we drive through pristine Cretan villages where we can enjoy Greek coffee.
– The mountain ridge between Messara and the coastline is a rather challenging part of the tour full of bends and turns.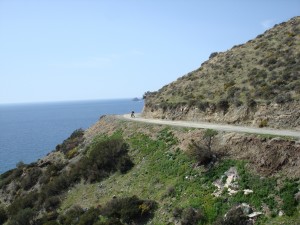 Day 7:
This day is for your own activities. If requested, a boat trip with Achilles is an option.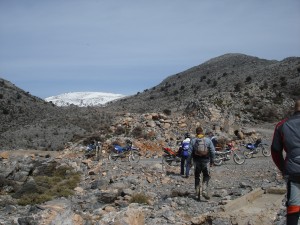 Day 8:
Transfer to the airport
All tours start at 10:00 h at the hotel in Matala which is also the final destination at night. The described tour is proposed by the tour operator and can at all times be adapted to meet the ability of the group, whether the route itself or the difficulty of the individual stages are concerned.
The daily stages vary between 100 – 180 kms.